DLO iBoom and Ewoo eFizz Charleston SC
DLO's iBoom and Ewoo's eFizz in Charleston are iPod speaker systems that aim to stand out from the pack by providing large LCD-equipped remote controls that let you browse your iPod's menus and content from across the room.
---
Eb Games
(843) 853-0982
145 Calhoun St
Charleston, SC
Bell South Business Systems
(843) 722-5400
385 Meeting St # 339
Charleston, SC
Global Marketing Company
(843) 723-9681
48 Grove St
Charleston, SC
Blockbuster Video
(843) 795-7443
862 Folly Rd
Charleston, SC
Rent Way
(843) 723-2878
1015 King St
Charleston, SC
Economy Tv Sales & Service
(843) 571-7232
1414 Savannah Hwy Ste B
Charleston, SC
Sharper Image
(843) 577-2424
235 King St
Charleston, SC
Tinsley Enterprises Incorporated
(843) 571-1286
23 Shadowmoss Pkwy
Charleston, SC
Cash America Pawn
(843) 744-1136
4400 Dorchester Rd # 11
Charleston, SC
Rex Tv
(843) 571-5693
946 Orleans Rd Unit 50
Charleston, SC
DLO iBoom and Ewoo eFizz
by James Savage , Macworld.com
The iPod-accessory landscape is littered with speakers of all shapes and sizes, forcing vendors to work harder to distinguish themselves from the competition. The iBoom JukeBox from Digital Lifestyle Outfitters (DLO) and the eFizz from Ewoo go beyond basic iPod-speaker systems by each adding a full-function remote control with a built-in LCD display that lets you navigate your player's menus.
Product:
eFizz
Rating
Company
Ewoo
Price as rated
$399
Recent Playlist Posts
DLO iBoom and Ewoo eFizz
Tweak your sound in iTunes and on the iPod
Apple is sued after pressuring open-source iTunes project
Playlist home View all Macworld blogs
DLO iBoom JukeBox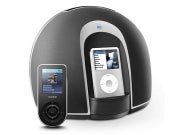 The iBoom JukeBox is a compact system measuring 11 inches wide by 7 inches deep by 9.5 inches high; it weighs 4.5 pounds. The attractive JukeBox is encased in black plastic with a stylish, matte-silver trim. Sitting atop the hemispherical case are illuminated, touch-sensitive controls for power, play/pause, forward, back, and volume level. The backlighting is useful in the dark, but the flush controls are nearly impossible to use based on feel alone. The JukeBox is powered by an included AC adapter with handy interchangeable tips for international use. An inset handle adds easy transportability.
Front and center is the iPod dock for connecting and charging any dock-connector iPod beginning with the iPod photo and 1st-generation iPod nano. (I was unable to use the system's remote control with the iPod mini and the fourth-generation iPod; DLO told Macworld the company is working on full compatibility with these models.) Though not officially supported, both an original iPhone and a 3G iPhone also worked in my testing, causing no audible interference. You can connect other audio devices to the JukeBox using the unit's 3.5mm auxiliary-input jack; there is also a 3.5mm AV-output port for displaying video on your TV (the required AV cable is not included). There is no pass-through USB connection for syncing your iPod or iPhone with your computer.
The JukeBox's remote control is what distinguishes the system from most iPod speaker systems, offering a built-in color LCD display to allow you to browse your iPod's contents, display track information and album art, and access the JukeBox's settings. A circular controller on the front of the remote looks much like an iPod's click wheel, but it's actually two concentric button rings with a play/pause button in the middle. The outer ring hosts buttons for volume up and down, as well as back and forward playback controls. The inner ring provides four navigational buttons. After a little practice with the remote, this control scheme works fine, although scrolling through long lists of items can become tiresome, as the remote offers no way to move a page, or a letter, at a time.
During iPod playback, the remote displays artist, album, and track information along with a progress indicator and a colorful, though small, album-art image. Since the remote uses RF frequencies, rather than infrared technology, it can operate from quite a distance away and through walls. DLO claims a range of 80 feet; I was able to maintain a connection up to three rooms away.
Like an iPod, the remote has a sealed, rechargeable battery. The remote attaches to the back of the iBoom to charge when not in use. If you forget to keep the remote charged, you're out of luck—your iPod's own controls are disabled when docked in the JukeBox, so you'll have no way to make song selections.
Behind the system's front mesh grille are left and right one-inch tweeters and three-inch woofers. Powered by the JukeBox's 10-Watt-per-channel amplifier, the speakers provide crisp, clear sound suitable for filling a medium-sized room. The bass won't shake the windows, but given the system's small size, bass response is acceptable. Unfortunately, there are no equalizer settings to tweak the unit's sound and there's no way to access the iPod's equalizer settings from the remote control. If you want to adjust the audio, you must change your iPod's EQ settings before docking.
Ewoo eFizz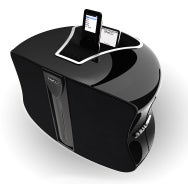 Ewoo's eFizz is in many ways a super-sized version of the iBoom JukeBox—bigger and more powerful, it even looks like it's just come from the gym. At, 15 inches wide, 11 inches deep, and 12 inches tall, and 14.5 pounds in weight, the striking, curved case is finished in shiny, black plastic with a black-mesh speaker grille. A deep well on the top of the unit has two slots: The front slot cradles and charges the eFizz's remote control, while the slot to the rear accommodates any dock-connector iPod starting with the original iPod nano. (I was also able to use the original and 3G iPhone; Ewoo recommends you use AirPlane Mode to prevent phone interference.) Just in front of the remote's docking slot are a set of tiny buttons for play/pause, volume up and down, and back and forward. These buttons are black with black markings, making them nearly impossible to see.
You power the eFizz using the included AC adapter, which, like the adapter for the iBoom JukeBox, works internationally. The adapter connect to a port on the bottom of the case; this area also hosts a set of RCA audio-input jacks and an optical (S/PDIF) audio-output jack. There's also a USB port, but it's for firmware updates; you can't use it to sync your iPod or iPhone with your computer. You also don't get video output. Placing these connections on the bottom preserves the beautiful, curved back of the eFizz, but it makes it cumbersome to connect the necessary cables.
Ewoo calls the eFizz's remote control the HandMusic. Like the iBoom JukeBox's remote, the HandMusic remote is rechargeable and allows you to browse your iPod's library, make selections, adjust the volume, and view track information and full-color album art. The remote's design gets fairly close to replicating an iPod's click wheel: It has a touch-sensitive circular wheel with four embedded buttons for menu, play/pause, back, and forward. Not only does the wheel help you breeze through long lists of songs, the remote also gives you the option to scroll alphabetically or a page at a time. Indicators for the remote's signal strength and battery level are also helpful.
Ewoo claims the RF-based remote operates up to 500 feet from the main unit. While I didn't get that range, I had to leave the house and go into the garage before the remote dropped the connection, so the range should be more than enough for most people. As with the iBoom JukeBox, the eFizz remote has a sealed battery, and your iPod's controls are deactivated when docked, so you need to keep the remote charged.
Behind the eFizz's mesh grill are left and right three-inch tweeters; a sizable 5.5-inch woofer fires downward. With 70 Watts RMS of power, the eFizz can fill your entire house with your iPod's tunes without trouble. In fact, the system is surprisingly powerful and provides a hefty bass punch. Highs are crisp and clear to go with a rich midrange, and you can fine-tune the sound from the HandMusic remote—unlike with the iBoom JukeBox, you can access your iPod's equalizer settings. As with any iPod speaker, the quality of the sound will be limited to the bitrate of your tracks, so the higher the bitrate, the better the sound. You can also pair the eFizz with an audio device that provides uncompressed or lossless audio via an optical output—such as a CD player or Apple's AirPort Express Base Station —to experience the best sound possible.
Macworld's Buying Advice
The iBoom JukeBox's display remote works well for control and access to your iPod, and the magnetic remote-charging cradle and illuminated controls are appreciated. The JukeBox sounds good, looks great, and packs a bunch of well-thought-out features. The eFizz is a great sounding, powerful, and sexy-looking speaker system, and includes a better remote, although for quite a bit more money; the only feature I missed was a way to output video so I could pair its awesome sound with my home movies and other videos.
Both speakers are well-designed and will complement any setting. If you don't need video output, choosing between the two systems comes down to how much you appreciate the eFizz's superior remote and how large a space you need to fill with sound. If you need to fill a very large room and appreciate a bigger bass sound, look at the eFizz. Both systems have auxiliary audio inputs, but only the eFizz gives you an optical connection.
James Savage is the host of the RetroMacCast , a weekly podcast devoted to older Macintosh computers.
Click here to read article at MacWorld